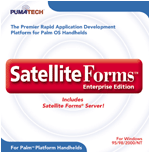 Satellite Forms is a fantastic rapid application development tool for the PalmOS platform from Thacker Network Technologies Inc.
Find out more about SatForms at http://www.satelliteforms.net
SatForms includes a great deal of functionality out of the box, but can be taken even further by the use of third-party SatForms Extensions. PalmDataPro.com markets the full line of invaluable SatForms extensions written by acclaimed Palm expert Gavin Maxwell, and previously sold under his Pocket Science banner, and has created dozens of new extension products to take SatForms to the next level.
Browse the PalmDataPro.com Online Store to view and buy all of our SatForms extensions.